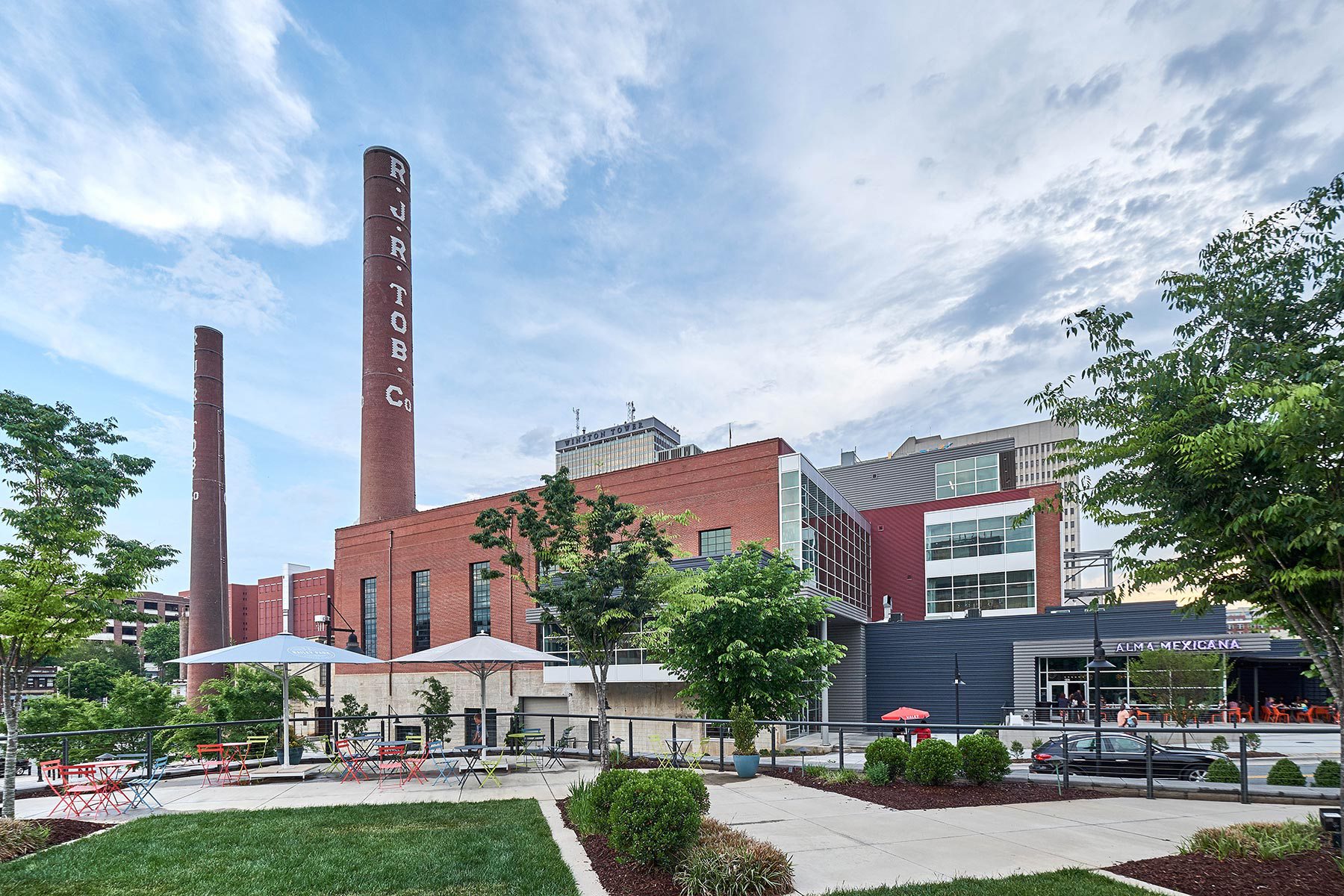 Bailey Power Plant: Images of it's Remaking
Where there was once a hollow shell, there is now bustling activity. Once dormant and showing signs of age, its patina is now embraced—a nod to the past and a fresh take on urban renewal. No longer a dark outline against the lights of Winston-Salem's downtown skyline, Bailey Power Plant, with its iconic chimney stacks, now breathes new life, fueling innovation and community with its inhabitants.
In early 2018, more than 20 years after R.J. Reynolds Tobacco Co. closed the coal-fired plant, the 111,479-square-foot facility opened its doors, welcoming new tenants and providing a vibrant mix of office, retail, and gathering spaces.
Hollow Shell to a Transformed Space
Before development, the five-story structure was emptied of its original contents, such as giant steam-generating turbines, exposing its skeleton marked by cathedral-high windows and a maze of trusses.
Once clean and ready for renovation, its revival depended on real estate and development partner Wexford Science + Technology's robust vision of the structure's potential—to serve as a magnet in the heart of the Innovation Quarter and downtown Winston-Salem and create a space where ideas are born.
Scope of the Project
The $40-million renovation, which lasted 19 months, resurrected the plant in the heart of the Innovation Quarter and increased the building's usable square footage by more than 200 percent, adding three floors and an above-roof addition on the north side of the building. Due to the efforts to preserve the building's historic designation, 97 percent of the former structure was incorporated in the final design—a major contribution to the building's LEED status.
Transforming Empty Space
Bailey Power Plant's metamorphosis incorporates elements from the building's industrial past with a mix of contemporary design.